The symbol of your call to adventure?
A DOXA watch. The timekeeper for your journey to every new frontier and beyond. DOXA was born in Le Locle in the heart of swiss watchmaking. Since 1889, our savoir-faire is tightly interwoven with tradition and ongoing expertise. Among the many milestones, DOXA was in 1967 the first brand to introduce the first diver's watch available to the general public, featuring a unidirectional rotating bezel to monitor dive time and ensure a safe no-decompression ascent back to the surface. With radical innovations, the DOXA SUB became an easily recognizable legend with the hallmark orange dial. Today, DOXA Watches remains faithful to the principle established over a hundred and thirty years ago: to produce high quality watches at affordable prices. The "DOXA SUB" designation stands for some of the most iconic diver's watches in watchmaking history. And the legend lives on. #YourCallToAdventure.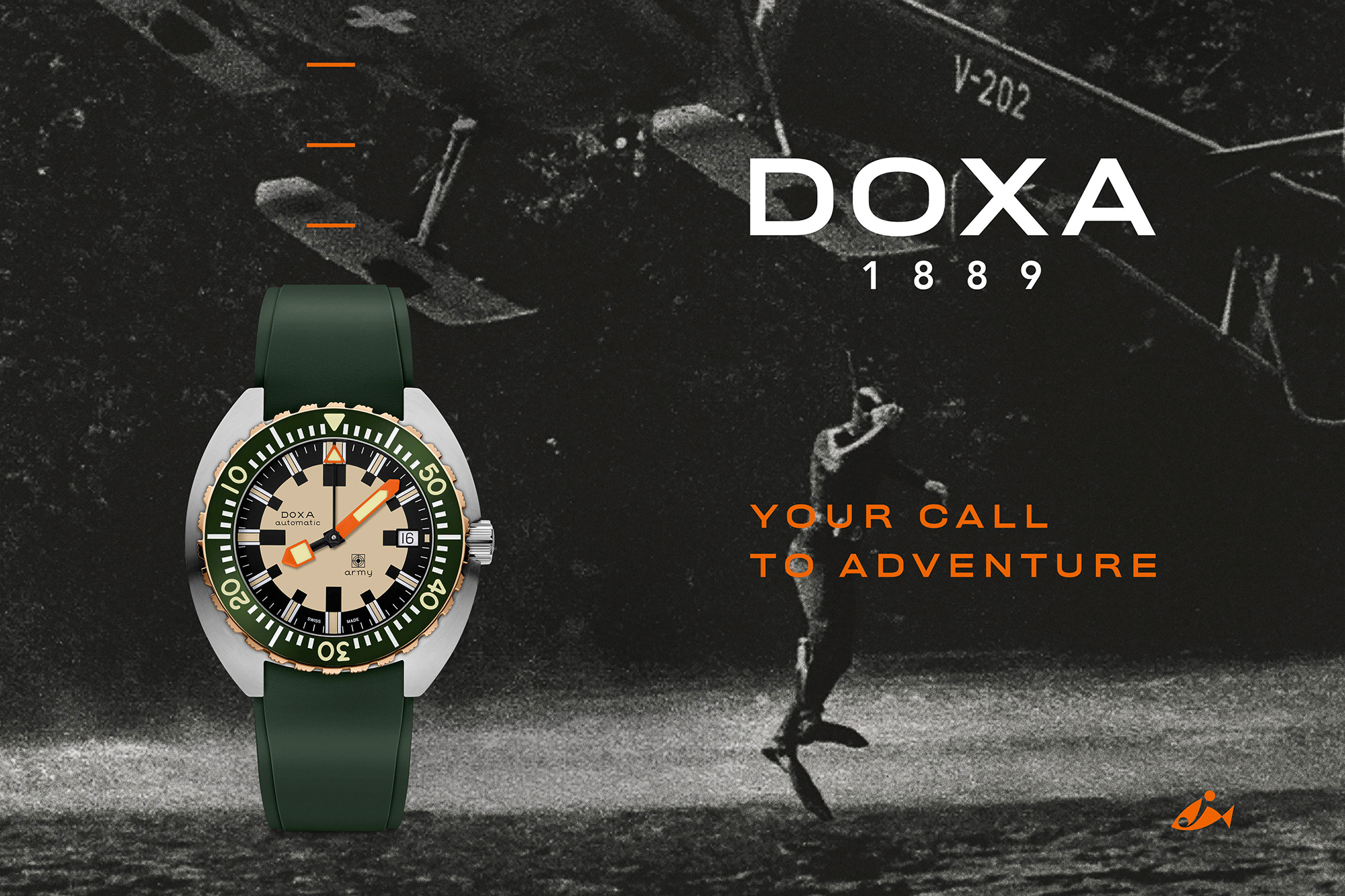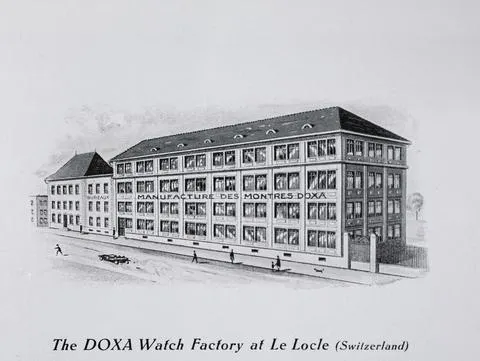 1889. The adventure begins…
Watchmaker Georges Ducommun had built a solid reputation for ingenuity, attention to detail, quick service and customer orientation – even walking twenty-odd kilometers to deliver a watch. But he was never satisfied. As he brought each tiny component and movement to life, Georges imagined how he could tweak it to make an even better watch. Georges soon realized it was time to step out of his comfort zone and opened his own business, "Georges Ducommun, Fabriques Doxa" at the age of 21.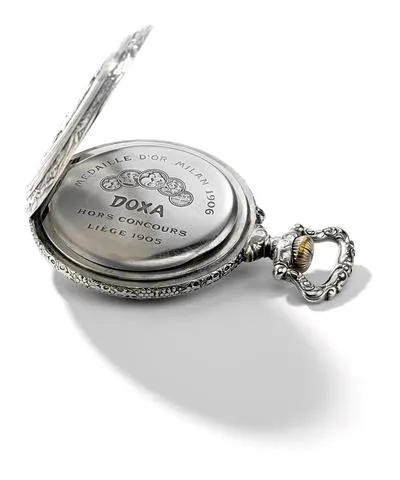 A new name for Quality, Value…
"Doxa" is the Greek word for glory. Over time it has also come to signify the splendor of timepieces with a reputation for value, quality and exceptional workmanship. Georges Ducommun's unique craftsmanship was recognized beyond the Jura region, Neuchatel and Switzerland as having reached this barometer. His pocket watch was honored at the "Exposition Universelle et Internationale," at the World's Fair held in Liège, Belgium in 1905 and in 1906 Georges' anti-magnetic DOXA won the gold medal at the World's Fair in Milan, Italy.
DOXA. It means a splendor of innovation, precision and purpose.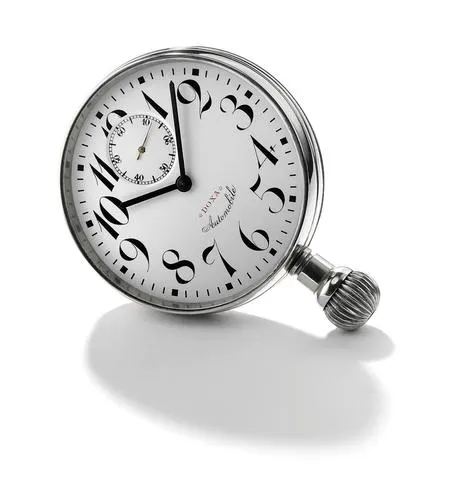 …and Innovation
Georges' ingenuity and knack for optimization timed perfectly to solve a problem thrown up by the automobile revolution in the early years of the 20th Century. Endurance races were all the rage and they needed a robust and reliable dashboard-mounted clock with an adequate power reserve. Georges filed a patent in 1907 for the "8-Day DOXA Caliber" which became standard equipment on Bugatti's racing cars – and an industry standard. Instrument panels in other automotive brands promptly featured a DOXA, with ships and airplanes following soon afterwards.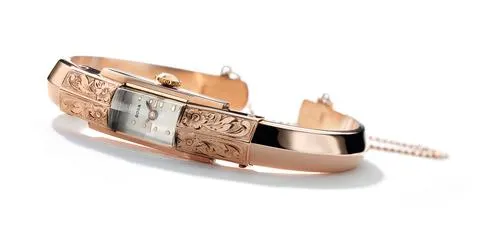 A reputation for durability and precision
Georges was driven to innovate to achieve immutable durability and split-second precision. When Geroges passed away in 1936, his son-in-law Jacques Nardin (grandson of Ulysse Nardin, founder of the renowned eponymous brand), took the helm and continued the journey. While the focus remained on travel and sport timepieces, DOXA continued to develop watches for all types of customers. Innovations included alarms, ring-watches and technical advances such as a date-pointer and a jumping second hand (like it does in quartz watches).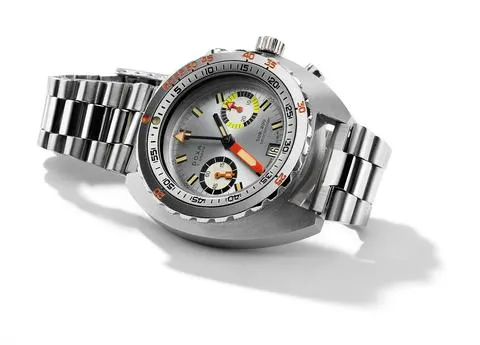 Timelessness comes from purity of purpose
DOXA's aesthetic credentials were cemented by an instant classic in 1957: a minimalist, Bauhaus-inspired "Grafic" dress watch collection. Ten years later, a purpose-designed, professional-grade SUB dive watch – the first accessible to the growing community of sports divers – sealed technical credentials. The SUB was developed with diving-legend Jacques-Yves Cousteau and introduced radical innovations that made it the benchmark for military and professional divers, even to this day.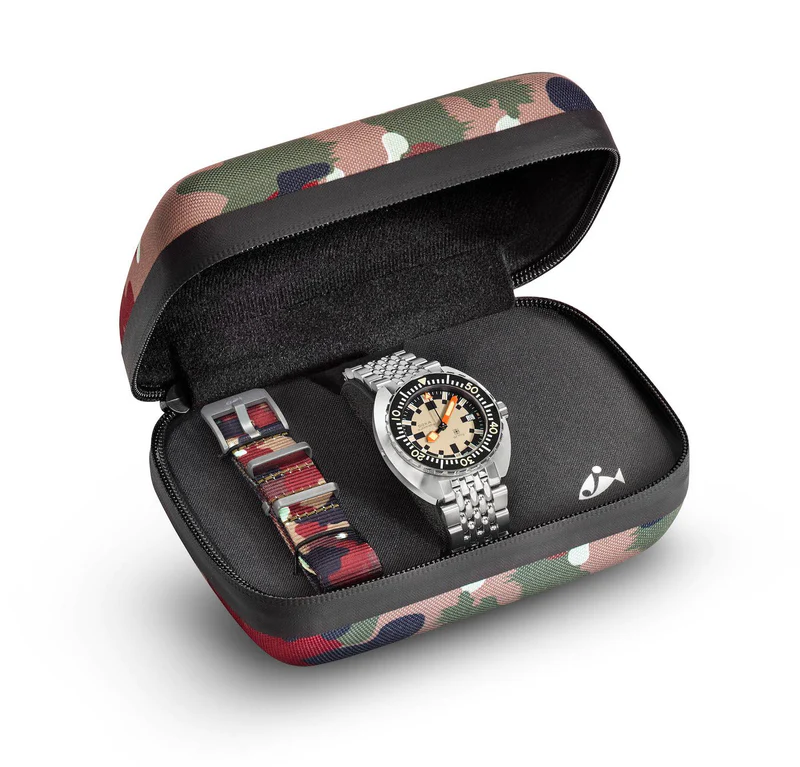 The adventure continues…
The advent of quartz technology marked a turbulent time for the Swiss watchmaking industry. One of many challenges DOXA and other great brands had to come to grips with. A new era began when the Jenny family acquired DOXA in 1997, merging an enduring appeal of iconic collections with a family active in watchmaking for four generations. The headquarters were transferred to Biel/Bienne, Switzerland.
In 2019, Romeo F. Jenny was appointed as President of the Board of Directors of Walca Group and Jan Edöcs, Board Member of the Walca Group and CEO of DOXA Watches.
Our adventure continues today, 130 years after it began.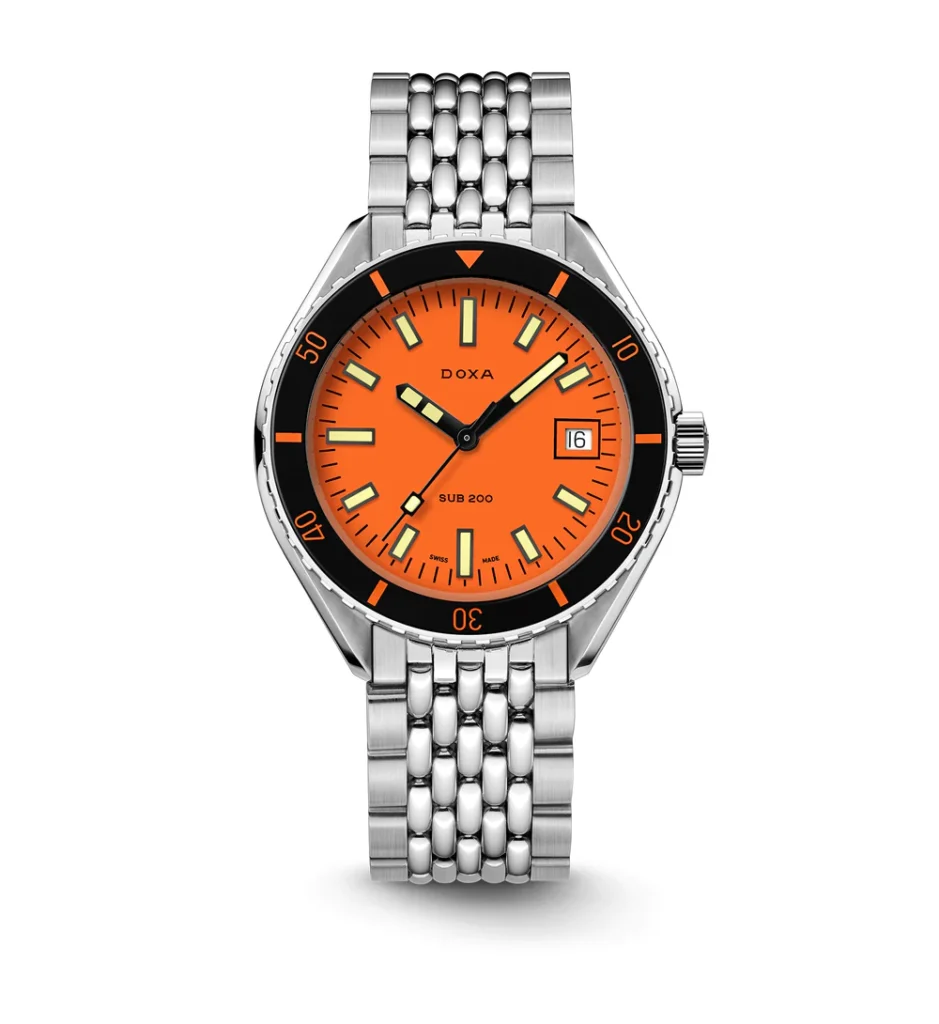 SUB 200
This 3-hand stainless steel diver's watch sports a scratch-resistant sapphire crystal with anti-reflective coating. The SUB 200 has a unidirectional rotating bezel and is available in 6 dial colors, with the option of a tone-on-tone rubber strap or a steel bracelet.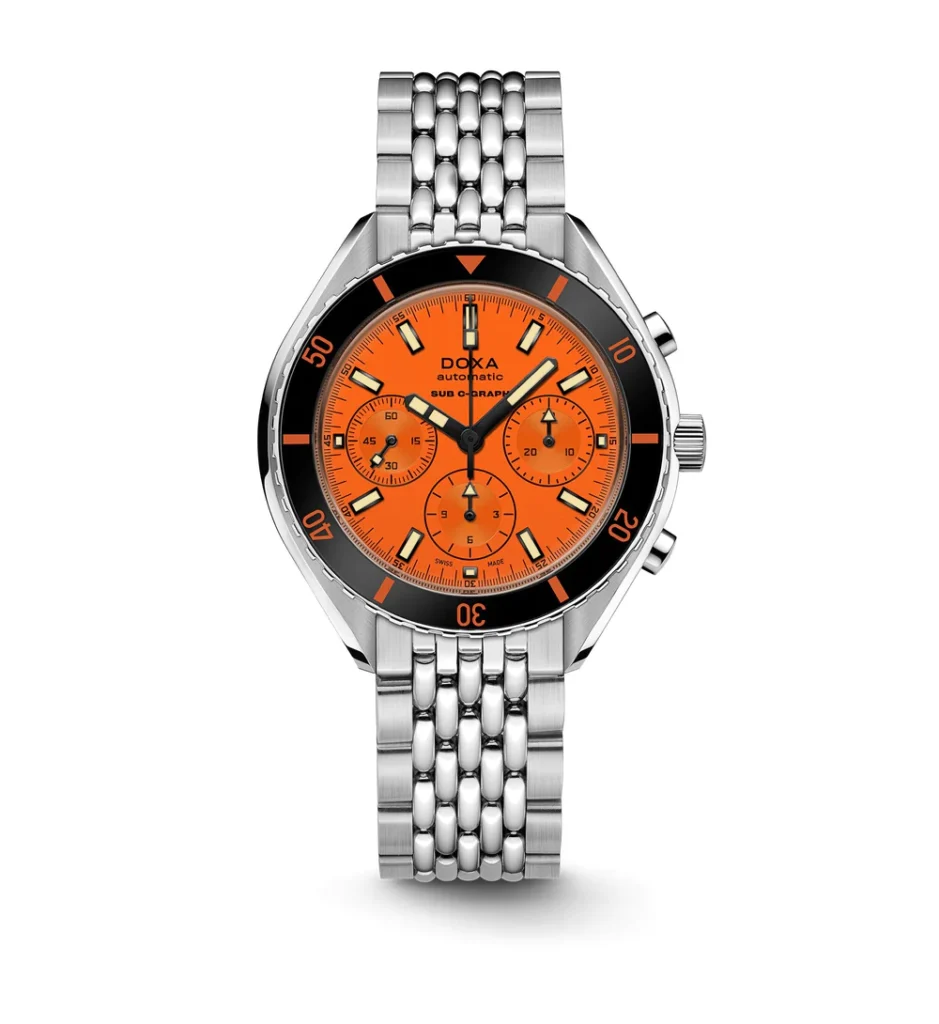 SUB 200 C-GRAPH
Available in 6 dial colors and offering the option of a tone-on-tone rubber strap or steel bracelet, the SUB 200 C-GRAPH sports the additional functionalities of a chronograph. This stainless steel watch features a scratch-resistant sapphire crystal with an antireflective coating.
SUB 200 C-GRAPH II
The new SUB 200 C-GRAPH II watch is a contemporary dive watch that comes with a mechanical automatic chronograph for tracking dive times. It has a 42mm diameter and a 15.85mm thickness, made of high-quality stainless steel. The dial has a luminous sunburst effect and is covered with scratch-resistant sapphire crystal. It offers a power reserve of up to 56 hours and is water-resistant up to 200 meters. With its revised bracelet and lighter weight, this watch is perfect for divers seeking a reliable, high-performance tool.
SUB 300T
This reinterpretation of the 1968 SUB 300T Conquistador comes in a choice of six colors. Equipped with the patented unidirectional bezel with diving table and a case rated to a depth of 1200 meters, it is up to any challenge. All dive markings feature Super-LumiNova® inserts.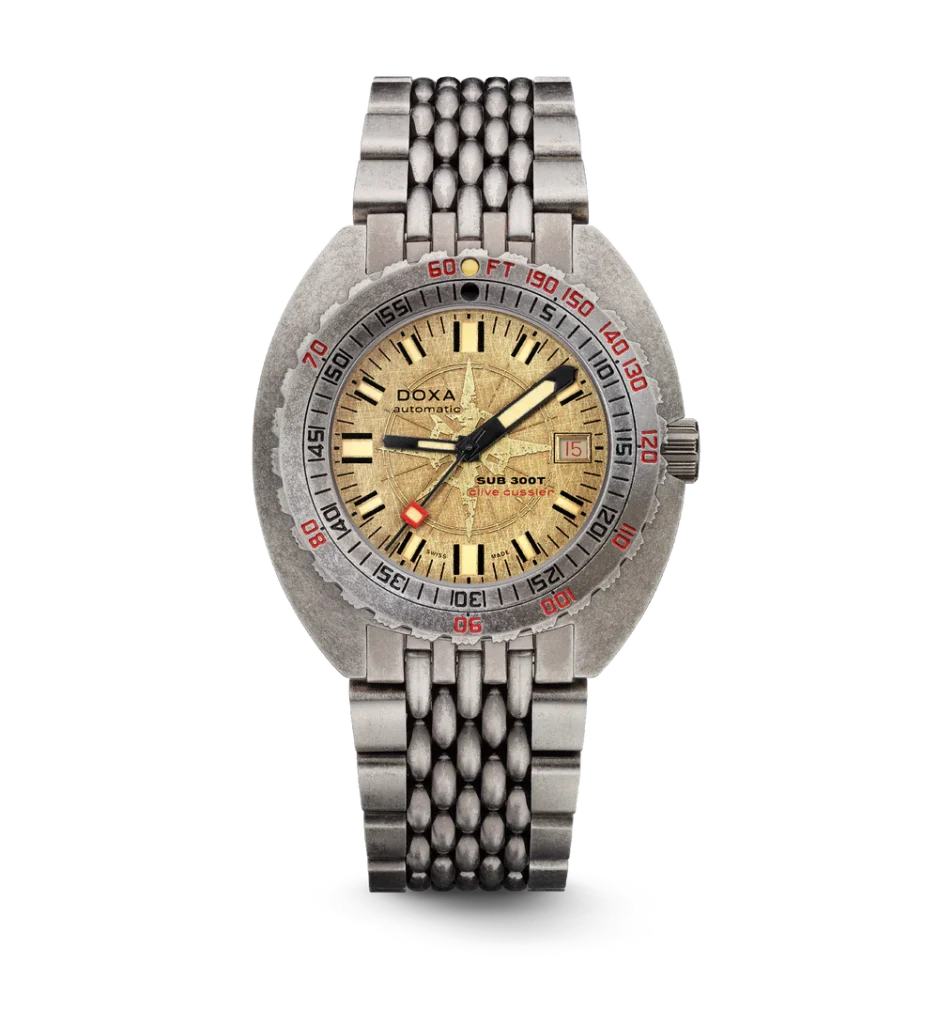 SUB 300T Clive Cussler
The SUB 300T Clive Cussler watch is a unique timepiece that embodies the adventurous spirit of Clive Cussler's novels. It has a handmade dial that resembles a vintage compass and an aged steel appearance. The watch is engraved with its own unique number on the bezel and commemorates the author's birthday with the dates 7, 15, and 31 displayed in red on the dial. It represents the fearless spirit of exploration and the enduring spirit of adventure.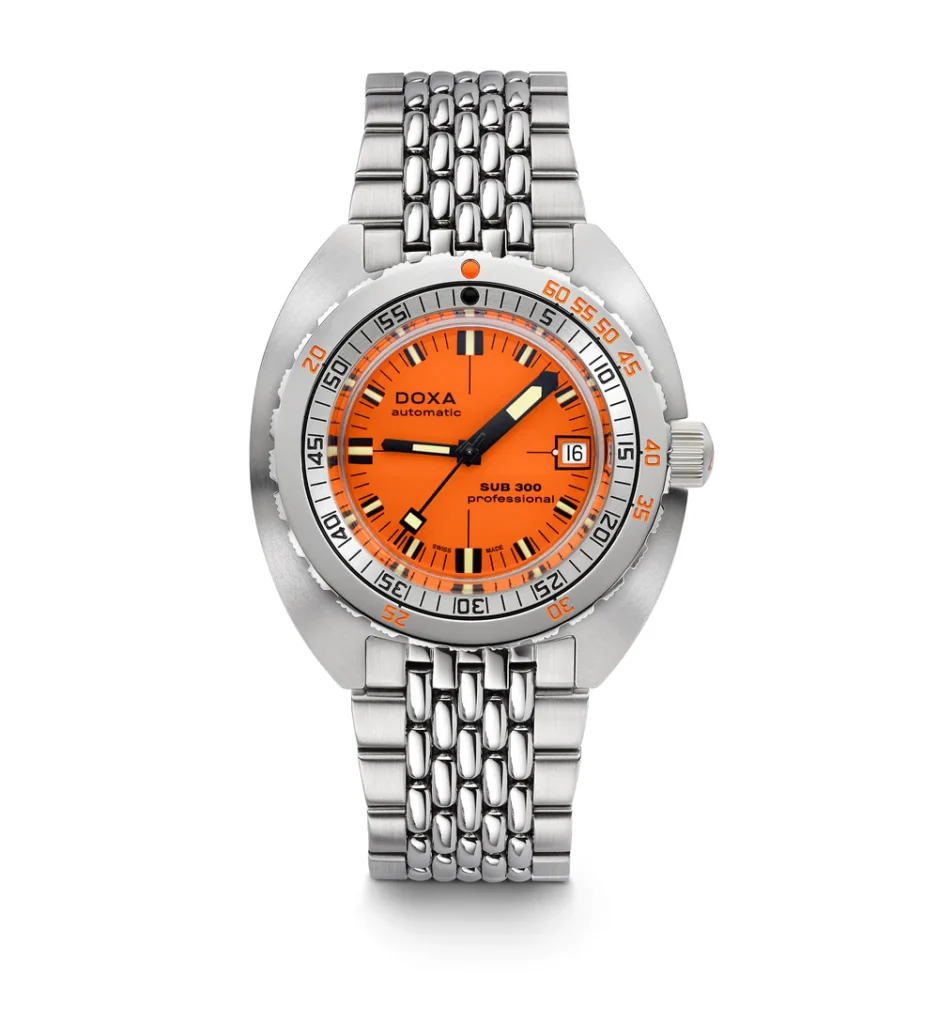 SUB 300
The famous SUB 300 is now back in steel. It is available in 6 dial colors with a unidirectional rotating
bezel with depth indication in meters. Also available: a tone-on-tone rubber strap to match the dial.
For a sporty and relaxed style.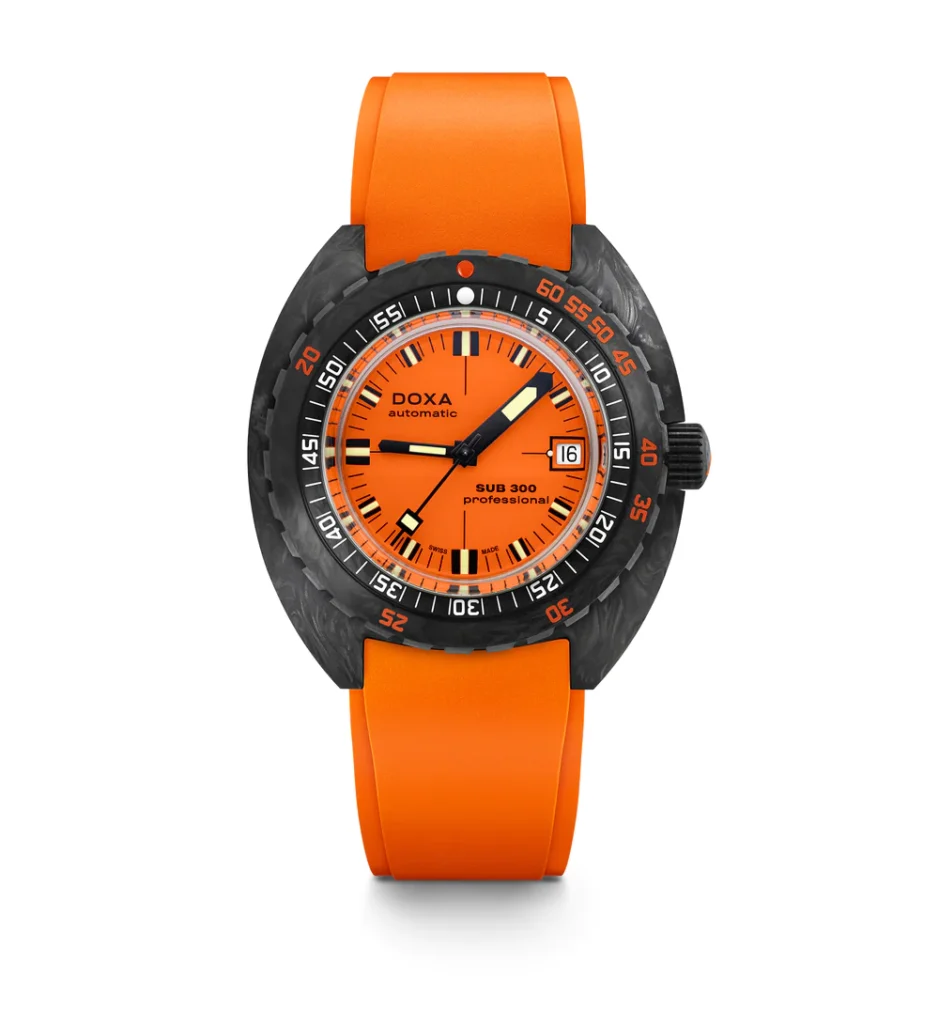 SUB 300 CARBON
With its forged carbon case, a titanium chamber to ensure resistance to pressure, and a dial available in 6 colors along with tone-on-tone rubber straps, the ultra-lightweight SUB 300 Carbon offers a fascinating combination of cutting edge technology and aesthetics with the legendary style of the iconic SUB 300.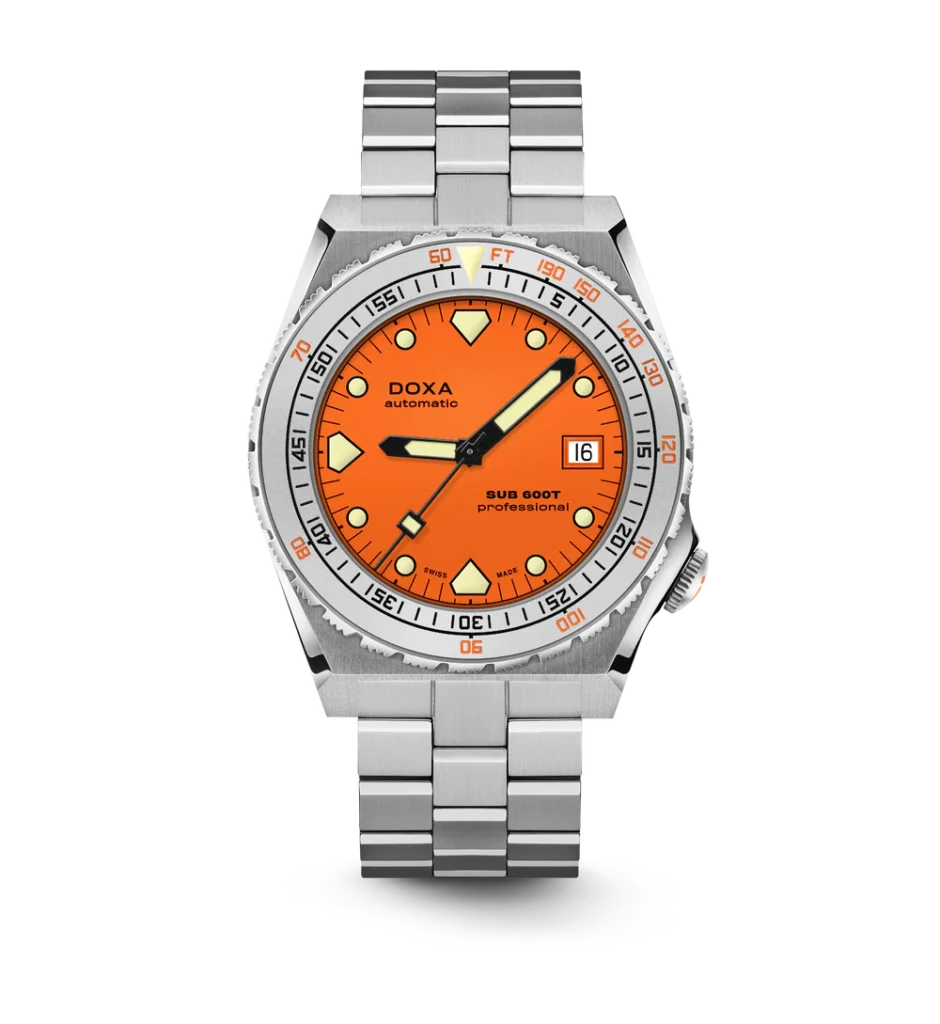 SUB 600T
In 2021, more than 40 years later, DOXA is doing more than just revisiting a chapter written long ago. We are paying tribute to the iconic SUB 600T with a new history that begins now. After the massive success of the limited titanium edition SUB 600T Pacific Blue this summer, DOXA is bringing out the SUB 600T in a non-limited edition to complete the DOXA SUB line-up. The reborn SUB 600T comes in stainless steel with the choice of a steel or black ceramic bezel insert, 6 vibrant colors and either a stainless-steel bracelet or an FKM rubber strap to match the dial color – in all, 24 combinations will be available.
SUB 1500T
True to DOXA's pioneering spirit, the SUB 1500T breaks new ground with a cushion-shaped 316L steel case rated to 160 ATM, equivalent to 1,500 meters. The SUB 1500T, which comes equipped with the patented unidirectional bezel with diving table and a helium release valve, has a diameter of 45.00 mm.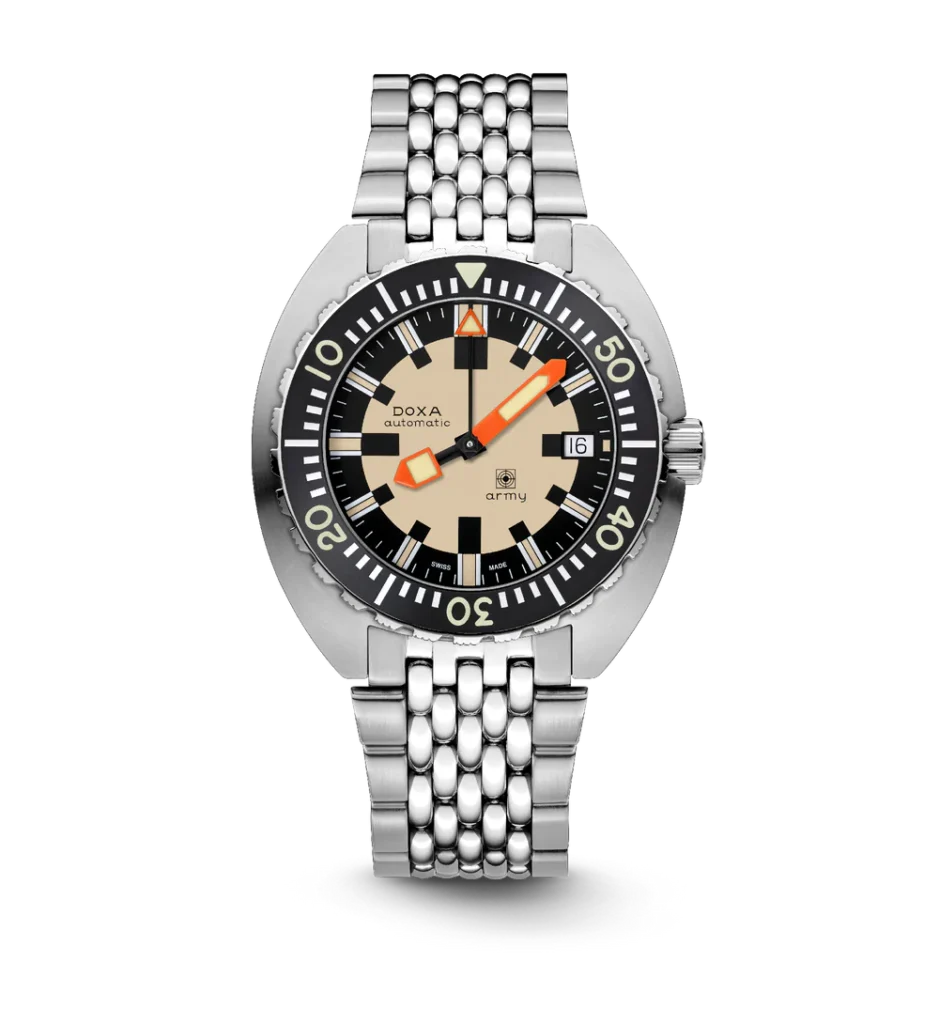 DOXA ARMY
The DOXA Army in steel comes in two bezel versions: in steel with a black ceramic insert and, for the first time, in bronze with a hunter green ceramic insert.
50 years after the birth of the DOXA Army, the brand celebrates its history with the elite Swiss Army Divers unit by reissuing this iconic model that has achieved cult status and is instantly recognizable.