After sales service
Mondays, Wednesdays and Fridays 10am to 4pm tel. +358 44 740 3334
email: aftersales@lindroos.fi
only whatsapp: +358 44 901 0100
Lindroos is Finland's largest private owned after sales service and its an officially certified service center for more than seven different Swiss brands. These include Rolex, Breitling, Cartier, Panerai, IWC, Omega and Tudor. As for being a certified service center, we are able to order the watch parts straight from the factory and we do not use any generic parts. This is how we ensure that the quality of your watch remains at the level it is supposed to be at. Certified service has also an international warranty and within the warranty, you can take your watch to be checked at any official service center in the world. The service interval for mechanical watches is around four to seven years. This is the point in where the oils in the movement start to dry out. No matter if your watch is mechanical or quartz, old or new, it pays to have it serviced regularly. This way the watches operational reliability is guaranteed year in year out.
Due to Retadan Oy ceasing its operations, we are pleased to announce the transfer of the TAG Heuer, Zenith and GUCCI after sales service to Lindroos.
Thus, TAG Heuer, Zenith and Gucci warranty service and other after sales service will continue in Finland. Service operations will continue in the same skilled hands, with Retadan Oy's service staff continuing as part of Lindroos' service team.
Evaluating the need for service
For making the estimate, it always starts with the evaluation of the need for service. All the marks on the case, bracelet and glass are documented as well as the condition and oils of the movement are checked. The estimate includes the price for operations as well as spare parts if needed, to ensure that the watch functions as it is supposed to. The service starts only after the estimate is approved. If a situation arises that an accident has happened to the watch, we can provide you with a statement for your insurance company.
What is included in the service?
The movement is dissembled and all the parts are washed. If there are any worn parts, they will be replaced. If there are some bigger parts that affect the cost of the service, they will already be with the estimate. The watch is assembled and oiled, and the dial and hands are put back on. The case is refurbished and the gaskets replaced. A pressure test is done to the case, without the movement, of 5 to 10 bars. The watch is then placed on a winder for a few days for testing. Finally, the power reserve is checked, to see how long the watch will run after being fully wound. When everything is completed, the watch will be ready to be picked up.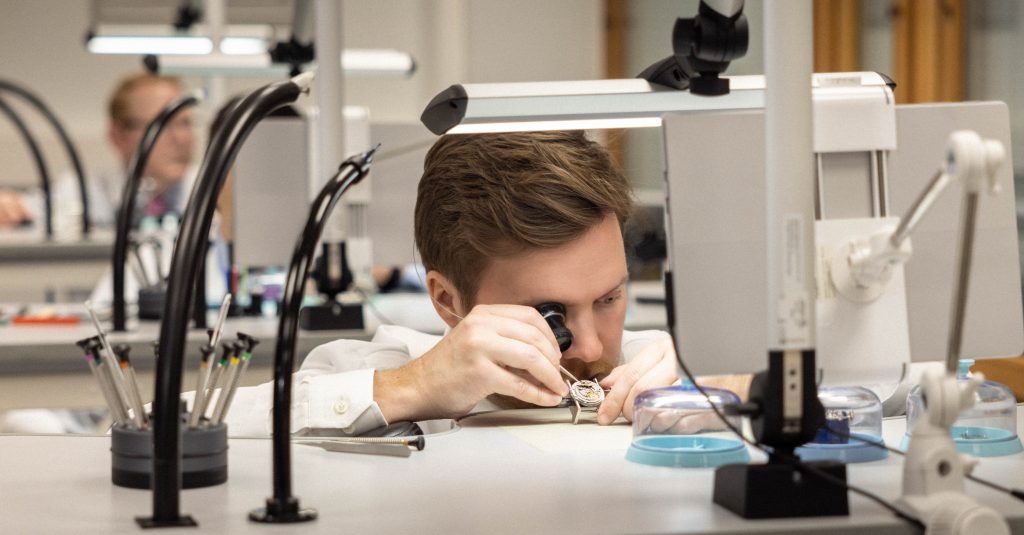 Watchmakers